When it comes to generating new business and enquiries, social media is a great tool. What's more, social media platforms are FREE! But, they do need a big investment in time to build them into lead-generating machines that really resonate with your audience.
Planning ahead is key, as is consistency and one of the best ways to map out your social updates is with a social media calendar. In this article, we'll take a look at some of the ways a social media calendar can help you and give you a few examples to get started.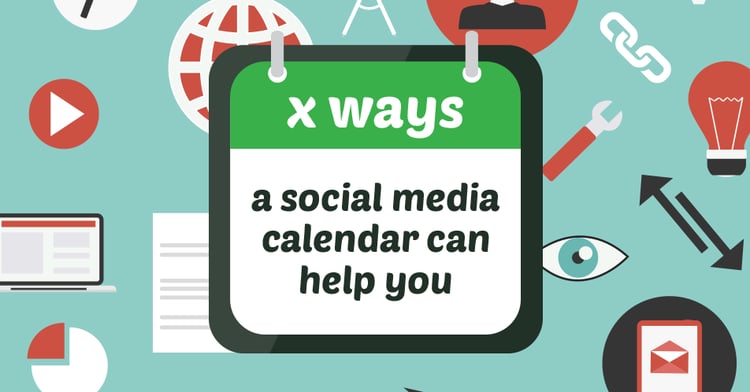 Planning for social media success
The key to making just about any marketing activities work is in the planning and preparation. We've all heard the maxim about "failing to plan is planning to fail"; with social media, the same holds true.
Once you've defined a social media strategy (i.e. a plan that outlines who you're going to target, with what content and on which platforms), the next step is to map out your upcoming social content - what you'll post to where.
One of the best ways to visualise this is by using a social media calendar, but a calendar has other benefits too. Here's our top four ways a planning calendar can really help you with your social strategy.
1 - Taming the social media beast
One issue you might find is that you've got a lot of things to shout about: new products, trade shows, recipes, business trips, networking, fun office stuff, the list is endless and it can all make great social content. However, you need to introduce a little bit of order to the chaos.
Introducing a social content calendar to your social practices can bring with it a new level of order and organisation. It can help you:
Think about the structure of your social media posts
Plan your content around certain topics or content groups
Decide on the promotion schedule for a blog post, once published
2 - Planning ahead
The first thing that probably springs to mind when you think about a calendar is a series of appointments and upcoming activities set against future days, weeks, months, etc. Well, that's really the exact nature of a calendar and a good social media version is no different.
The beauty of planning out a schedule of your upcoming Tweets, Facebook posts, or LinkedIn Pulse content is that you will gain a high level overview of your forthcoming social activities.
Of course, this shouldn't force you to write everything down at the expense of spontaneity - being of and in the moment is still at the very heart of social media and it's important for your business. Be bold and mix it up with some 'of the moment' posts.
By planning ahead, however, you can make sure that the various social threads that support your larger marketing activities are well thought through and will help you maximise their impact.
3 - Working out kinks before you post
Mistakes happen, situations change, things go wrong - it's a part of life. The trick here is to minimise the chances for errors to creep in and to catch and right the wrongs before they have a chance to get out of control.
Aligning your social content to a calendar, as part of the high level overview we just talked about, you also get to dig into each item and examine it for a range of potential issues:
Spelling mistakes
Iffy grammar
Broken links
Missing images
Off-brand messaging
...or even just plain incorrect facts or claims


4 - Getting input from your team
Linking in with point three, being able to gain a consensus and gather opinions from your wider teams (not just marketing, but other invested parties, such as the sales team) will help you create the best content possible and keep it looking sharp!
You can avoid marketing by committee by asking for specific feedback or changes, or even something simple like 'could you check these Tweets for grammar errors?'.
If you're a solo business owner, or the lone social media delegate for your small business then you'd be forgiven for thinking this section doesn't apply to you. However, it's always useful to ask for another set of eyes on things. Again, keep away from too much subjectivity, but having someone else (a business associate, friend, colleague) take a look and offer some constructive advice will help you craft the best content possible.
It might also be that you have a content production line that involves multiple team members. A number of people might craft the content and populate the calendar with it. From here, another set of people take the calendar and set about publishing the content and scheduling it through various social media tools.
Having one single place where content is created and scheduled is hugely valuable when it comes to team efficiency.
What's in a calendar?
There are many, many ways to build a social media planning calendar. The best ways, however, involve keeping it really simple. Creating a simple, straightforward calendar will enable you to easily update and transfer the content, have someone else collaborate on it with you, and make your life much easier in the future.
To build the calendars we'll take a look at in the next section, we've taken the following approach:
Create a new spreadsheet (MS Excel, or Google Sheets will work fine)
Split the spreadsheet into a number of tabs / workbooks, one for each social media channel (in our case, we've opted for Twitter, Facebook, and LinkedIn)
Add a 'week commencing' row - this will allow you to group a particular weeks' social content into chunks. You might find different groupings work better for your business, so try some out and stick with your preference
Break the group into individual dates in that week for each post (e.g. 14/11. 15/11, 16/11, etc.)
Include the content you want to post
We've also added a few platform-specific details that we'll take a look at in the examples below.
Building a simple social media content calendar
We've put together a simple social media calendar for Twitter, Facebook and LinkedIn. It caters for each platform's quirks and approach and we've populated it with a few example posts.
Twitter

Here's our Twitter example. Twitter is a platform known for its 'happening right now' chitter chatter and, as such, works well with more content posted more frequently. There are a couple of additional points to explain here that are unique to Twitter:
You'll see our 'week commencing' rows / sections are coloured differently as they alternate. This helps identify each upcoming week separately from the others
We've added in a 'campaign' column here to help us group our tweets to a particular marketing campaign. This will help us during our results analysis, when we want to identify what worked well and what didn't
The actual social content we're going to post. We've included links here as they form part of each Tweet
Twitter, although recently relaxing their strict 140 character limit, still impose a restriction on the number of characters you can have per tweet. To save headaches now, we've included a counter that lets us know just how long each tweet is.
To do this in MS Excel, simply type '=LEN(CELL-NUMBER)' into the cell, replacing 'CELL-NUMBER' with an actual cell reference (e.g. C4) and you'll magically see a tweet length appear
Here, we've identified some great hashtags to use in our tweets to help us reach new / wider audiences. They might not all fit, but it gives us an idea of how we can promote the tweet to different people
Twitter hours are a great way to network with other businesses online. Whilst we've got a fantastic article on how to get involved with Yorkshire Twitter Hours, for now, we've simply included some Twitter Hours that we feel will welcome our content.
Similarly to the hashtags and Twitter Hours, we can perform some simple outreaching by including some relevant Twitter handles with our tweets. We've found some here that may work well.


Facebook

Our Facebook calendar has a familiar layout to the Twitter one with a few different bits that are unique to Facebook - additionally, we've lost the hashtags and user mentions as these aren't as popular or available on Facebook:
Because you aren't restricted on post length with Facebook, we've separated out our links from the main body of content. We can still use links in the content, but we ideally want a single focus link for our post. This is where Facebook will usually pull any extra information from, so it should be the first link included in the post
Any images we're going to use in our post, we'll list here. It might be easier if you're using lots of images to have them in folders and name the folders here instead
Facebook offers a number of different post types to show off your content depending on the media involved. You can post images, text, slideshows, carousels, events, videos and many more. Defining the type of post you want to use here will save confusion at publish time


LinkedIn

LinkedIn is very business-focussed and does warrant more business-specific information and content than Facebook, Twitter, and other platforms such as Pinterest. Despite that, the initial calendar looks somewhat similar to Facebook as the way you post on LinkedIn isn't miles away from the way you post on Facebook.
There are a few LinkedIn differences, which are:
Groups
LinkedIn works very well when you become part of different business community groups. Your social strategy will help you define which ones will work for your business, but in the calendar, we're interested in whether this specific post should be shared in one or more LinkedIn groups, and if so, which ones.
Personal profile sharing
Should this content be shared on a personal account feed, maybe one of your employees, or by reaching out to a connection who would be interested in sharing your update? Put the personal account names in this column.
Company pages
As well as groups and personal feeds, do you want this update to feature on your company's LinkedIn page? Some types of content are right for posting to your company page and some aren't. If this piece is a good fit, mark it so here.


Working your social media calendar into your tools
There are many effective and low-cost tools out there to assist you with your social media, from helping with the heavy lifting, to reposting your best performing content.
One of the most popular social media platforms out there is Hootsuite. One of the impressive features of Hootsuite is the bulk scheduling of social posts - which is an immediate fit for our calendar.
Hootsuite produced a detailed article on how to use their bulk scheduler tool, but, in essence, you start with a .CSV file which looks hugely similar to the calendar we created. Populate the .CSV with your social posts and simply upload it into Hootsuite, add your images and other media, and hit 'schedule'.
Don't think you're just stuck with a spreadsheet calendar that won't integrate with other applications out there.
Here are some other great social media articles that you may like
Take a look around our other social media articles to keep at the top of your social media marketing game:
---