If you spend any time reading up on how to better market your business, products and services, you'll inevitably come across content extolling the many benefits of social media.
But learning how to use social media for your business can be off-putting as there's just so much information. Not to mention trying to find the time needed to maintain active social channels, research and post winning content and respond to your customers online.
By working with a social media firm or freelance social media consultant, you can save yourself some headaches and a lot of time, as well as turn your social presence into a great source of new business.
In this article we're going to help you make the best choice for your business with our top 7 questions to ask a social media consultant before you sign on the dotted line.


---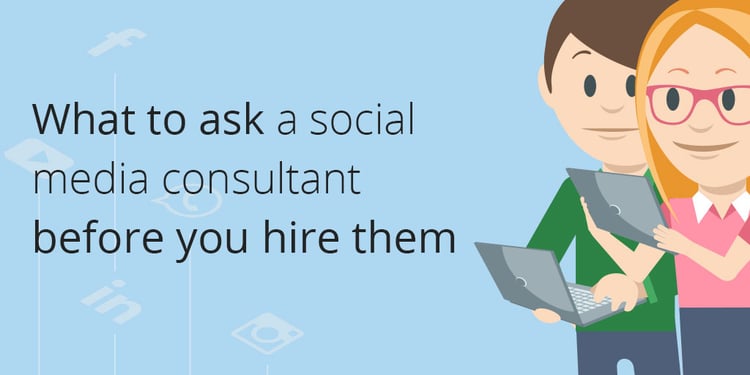 Why use a social media consultant?
Sooner or later, part of your marketing plan is going to introduce social media into the mix. Getting involved with social media (for example, using valuable resources like Twitter Hours) will give your brand a voice, communicate directly with your target audience, and can bring in new business.
However, when it comes to running a successful social campaign and maximising the business benefits one can bring, there are many areas where businesses often stumble:
Posting the wrong material to resonate with their audience
Not leveraging each social platform's unique features
Struggling to find the time to keep up an active presence
Spending too much money, or investing it in the wrong areas on paid social advertising


To make the most out of your social media, choosing to work with a dedicated social media consultant is a good decision for many businesses, and you'll certainly be spoilt for choice in today's marketplace.
In order to determine who will help take your social media to the next level we'd recommend reaching out to a handful that catch your attention and arranging a face to face meeting. Keep things informal and see how you'll be able to work together.
Once you're ready for the face to face meeting, be sure to ask questions based around their experience in social media, how they've helped other businesses like yours, how they charge, and try to get a feel for how passionate they are about seeing your business succeed.
So, what sort of questions should you ask to help you decide on the best partner for your business social media? Here's our top 7…
1 - Do they have a strategy in mind? What does that look like?

You shouldn't expect a marketing consultant to produce a detailed social media plan right off the bat at a first meeting, but it's important to ask what their plan is moving forward.
It's likely that after an initial meeting and some fact finding that your chosen consultant will produce a brief, outlining what they have planned for your social media campaigns.
This might include:
A description of your current social standing
A set of goals, plans and targets
Recommendations to implement across your selected social channels
Budgets and costs
And a process of how they're going to achieve any goals set.


You should expect to pay for this time and document, but before you settle on a partner and agree to anything, they should at least be able to discuss some ideas with you, go over a brief plan of action, and perhaps show you an example of a strategy they put together for another client.
2 - How will you both measure success?

Social media isn't about single, out of context numbers: having 1000's of followers on Twitter doesn't necessarily make your account more successful (or even, more popular) than someone else's.
Similarly, having a handful of followers on Facebook that drive some sales into your business might not be hitting your targets for growth.
So just how will you define, measure and track the success of any social campaign?
It's very likely that you'll have a very different vision in mind about progress and results than the consultant you're meeting with, so it's a good idea for you both to discuss what success will look like and how you're going to track it.
This is an important step as it helps you both align your ideas, and measure the tangible results during and after each campaign.
3 - How often will they send feedback and produce reports?

The trick to successful marketing is being able to measure progress: doing more of what's working and less of what's not.
To give you an understanding of how your campaigns are working, ask about reporting:
How often will you receive reports?
In what format - face to face meetings, phone calls, PDFs in emails?
What will the feedback and reports look like?
Ask for examples from other clients where possible
What happens if there is anything amiss with the data, and how do you both handle any issues that arise?
Your potential supplier should be happy to work with you to agree a method that suits, but you should be prepared for additional costs if that's outside of their normal working scope.
For example, if you would like weekly reports instead of monthly, is this OK and what charges are there for this extra service?
4 - Do they have a specialism as far as social media is concerned?

There are a lot of social media and marketing channels out there. It's impossible for everyone to be an expert in all of them, but as far as you're concerned it's useful to know where your prospective consultant's skills lie.
Are they certified in any particular platform? Do they have a favourite channel, or more experience in some than others?
Broadly speaking, the skill with social media (as with any marketing endeavour) is being able to put together a campaign and then and track and measure how it's performing by analysing the data. If your consultant isn't a LinkedIn Jedi that's OK, so long as they have a decent level of knowledge and know-how to leverage the platform's data to prove value to your social media marketing.
Following on from this, if there is an area that they have little experience in, do they outsource? How does that work?
Any decent agency or consultant worth talking to will be honest and transparent about their working practices. If they don't specialise or have experience in something it's important that they tell you.
If they can take on such work using a subcontractor or third party, then how will this work in your individual case? Be sure to find out more details around this: how long have they used the third party, will you deal directly with them, and what happens if that relationship ends?
5 - How do they charge?

Whilst it can be a question of 'how long is a piece of string', knowing how each particular consultant prefers to work, and how they charge for their work will allow you to budget accordingly and prepare for costs down the line.
Do they charge hourly or offer a fixed, per-service cost? Are there any packages available (e.g. 10 hours per month for XYZ)?
To some degree they should fit in with your needs too. For example, if you prefer to spread larger work out over a fixed period, or monthly payments, can they accommodate this?
There shouldn't be any hidden or surprise charges, but be sure to ask about what's included in the price for any work - will there be any likely additional costs? Is any part of the work likely to run over budget and how is that handled?
6 - Which social media do they use?

Asking about what social media platforms your potential partner uses might seem like a strange question at first, but their answer can be quite revealing.
For example, it can highlight:
Their level of awareness of available social media out there
Their enthusiasm for social media as a whole
Which channels they prefer to use and why
A level of capability in using social media successfully for their own business


You can also dig further into how successful their own campaigns are. Are they their own best case study? Is what they do for themselves going to be reproducible for you?
7 - What success stories do they have?

Everyone wants to get the best from products and services they buy and being able to show any successes (and failures) is a good indication that you're onto a winner. Also, if they can speak about any industry-specific experience of social media content and campaigns that worked well for businesses like yours - especially niche businesses - then even better!
Just remember to bring any success stories back to measurable results. Marketing is all about being able to account for success at the other end, meeting goals.
Being able to generate 10,000 likes on Facebook is impressive, certainly, but what tangible benefits did that business receive as a result?
---

Your new partner will help your business be more social
Running a successful social media campaign not only gives your company a voice in the world where your customers like to spend their time, but it gives your customers, old and new, a place to reach out to you, to find out more about the people and places behind your business.
Choosing the right social media consultant that you can trust with the online face of your business means you'll enjoy more sales, happier customers, and stand out from the crowd.
---